Professional pest control from
your neighbors in Central Virginia.
Healthy Homes Subscription
$42/mo
Covers ants, beetles, wasps, spiders, centipedes, and other common household pests
Four annual exterior treatments (spring/summer/autumn/winter) to keep pests out of your home
Additional treatments as needed to keep your home healthy and pest-free
+ Rodent Prevention
+ $7/mo
$32 per month without the Healthy Homes Subscription
Covers mice and rats
Exterior bait stations to keep rodents out of your home
Quarterly checkups to maintain and refill bait stations
+ Termite Prevention
+ $20/mo
$29 per month without the Healthy Homes Subscription
Covers subterranean termites
Exterior termite bait stations to eliminate termite colonies before they reach your home
Annual checkups to maintain and refill bait stations
Who do you trust to keep your home healthy?
A home with pests is not a healthy home. Pests can carry disease, contaminate food, bite and sting, damage property, or even just creep you out.
DIY pest control is ineffective at best and actually pretty dangerous if you don't follow all instructions precisely. National and international pest control conglomerates reduce the unique pest challenges in your home to data analytics and profit margins.
We're a local, family-owned business. We're not only professionals who know what we're doing, we're also your neighbors here in Central Virginia. We don't use any products to protect your home that we wouldn't also use in our homes where our kids and pets play.
We know what we're doing and we care enough to do it right every time.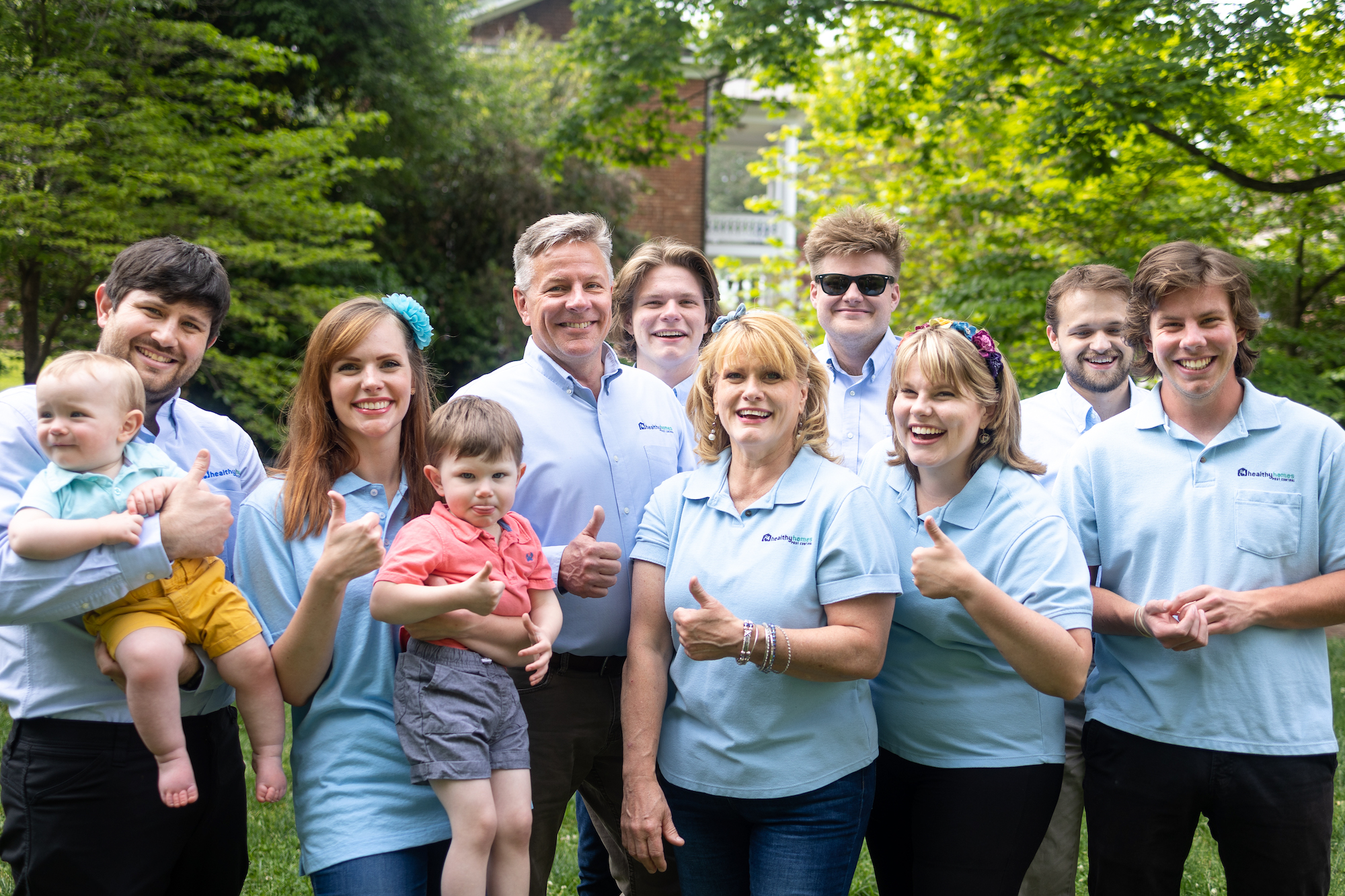 Why do we offer subscription pest control?
Because nature only offers subscription pests.
The old model for pest control was to hire an exterminator only when you already had a serious pest problem. It involved a lot of money, a lot of pesticide, a lot of pests, and a lot of stress.
A better strategy for keeping a home healthy is the same one you use to keep your body healthy: maintianing consistent healthy habits to prevent problems from emerging in the first place.
That's the idea behind our Healthy Homes Subscription. Our consistent seasonal treatments keep pests out of your home, and if you do see bugs we'll come and deal with them for no additional charge.
And now you can bundle your subscription with Rodent Prevention and Termite Monitoring for added savings and added protection.
Healthy Homes Subscription
$42/mo
Covers ants, beetles, wasps, spiders, centipedes, and other common household pests
Four annual exterior treatments (spring/summer/autumn/winter) to keep pests out of your home
Additional treatments as needed to keep your home healthy and pest-free
Imagine a world without ticks and mosquitoes.
Okay, now just imagine your yard.
Mosquitoes and ticks are not only very annoying, they also carry some of the most serious illnesses you're likely to get from pests in Virginia, including Lyme disease, Encephalitis, Zika, and West Nile virus.
We can help keep your yard a safe place for your family (including your four-legged family members). Our misting application targets surfaces where mosquitoes and ticks are most likely to pass through, eradicating them before they can find you.
We recommend our customers start with monthly treatments and upgrade to every three weeks if necessary.
Summer Yard Pests
$99/mo
Mosquito and tick reduction
Yard treatments available monthly or every three weeks
Provided from April to October
We're very professional and got rid of my general pest problem
Dean Johnson was a lifesaver! He jumped in right in time to assist a client of mine who really needed some help with rodents. He worked with the client, despite not having the payment immediately. This greatly improved the client's quality of life, and set him on a path to making his home more livable. Thank you Healthy Homes!
They communicated the date/time well, came on time, inspected house, sprayed exterior and basement. Was having issues with spiders on porch and centipedes in basement and no sightings since they sprayed. Worth every penny and i signed up for the annual service. Definitely recommend their services!
Merry Ellen Barnett
2022-11-01
Dean was very responsive to my initial inquiry and has exhibited excellent communication ever since. All interactions have been extremely professional. Overall we are very pleased with Healthy Homes Pest Control!
Dean and Carroll are very responsive and professional. They work with my schedule.
Steven Sinakhot
2022-09-15
I just moved into a new house and needed some assistance with the number of ticks and mosquitos showing up while we are in our yard. Within the next business day of requesting a service, they immediately contacted us and came out as soon as we were available. Alec showed up and explained what he could do for us. It sounded great so as soon as I signed the paper work, he immediately got to work with the services we wanted. He did a great job and answered all the questions we had. We were satisfied with the work and the amount of pests have been significantly reduced. Would recommend! Very Friendly and understanding!
I was sharing my basement with far too many house centipedes and brown millipedes, and the creatures were starting to invade the upper stories of my home. Healthy Homes provided just the right combination of low toxicity, pet and human safe insecticides to rid my home of my "guests". Very happy with HHPC!
I contacted Healthy Homes Pest Control when I moved to the area for mosquito and tick control. The mosquitoes in this area are voracious and I'd hoped to reduce them to the point where I actually can work on my garden. At first, I was not quite sure if I wanted to add the pest control package but finally decided as I had a mouse problem in my garage and ants in the house. I'm so glad I bought both packages. Since the Healthy Home Pest technicians have been coming I have not been bitten by a mosquito (it is mid summer now) even though I work in my garden every day and cook out frequently. For the pest control package, I could not believe how many times I've called them. I had problems ranging from ants to carpenter bees to a wasp nest. Each time I've called, they've arrived the same day or the next day to fix the problem. I'm so glad I have their service for my house. I'll definitely renew our contract next year.
Serving the Charlottesville and Richmond Areas
We cover Albemarle, Chesterfield, Fluvanna, Goochland, Greene, Henrico, Louisa, and Powhatan Counties:
Barboursville
Batesville
Beaumont
Bremo Bluff
Bumpass
Charlottesville
Chester
Chesterfield
Colonial Heights
Columbia
Covesville
Crozet
Crozier
Dyke
Earlysville
Esmont
Fork Union
Free Union
Glen Allen
Goochland
Gordonsville
Greenwood
Gum Spring
Hadensville
Henrico
Ivy
Keene
Kents Store
Keswick
Lake Monticello
Louisa
Maidens
Manakin Sabot
Mechanicsville
Midlothian
Mineral
Moseley
North Garden
Oilville
Palmyra
Petersburg
Powhatan
Quinque
Richmond
Ruckersville
Sandston
Sandy Hook
Scottsville
Short Pump
Stanardsville
Trevilians
Troy
Tuckahoe
White Hall
Zion Crossroads
Any questions?
We pride ourselves on our zero-pressure sales approach. Whether you call us or schedule an inspection, you're signing up for a conversation, not a sales pitch. We'll give you the information you need and then give you the space and time to make a decision on your own terms.